---

---
SUNSET TOURS AND FISHING CHARTERS WILL START APRIL 1ST, 2017..
PLEASURE CRUISE TOURS
April 1st through November 1st with advanced reservation.
Availability may vary based on when you book and when you're looking to go.
Best to call as soon as you can to be sure to lock in your preferred date & time!
386-673-0022
* 6:30pm-7:30pm
* 1-2 passenger tours (1 hour) now available on board one of our shallow water vessels.
Cruise the true backwater creeks in search of hidden wildlife and typically unseen territory = $75 total.
** 6:30pm-8:30pm
** 1-2 passenger tours (2 hours) cruising creeks and true backwaters.
2 hours gives us enough time to really explore deep into the hidden backwater creek systems of the Tomoka River or Tomoka Basin areas = $150 total.
* 6:30pm-7:30pm
* 1-4 passenger tours (1 hour) on the pontoon boat $25 per person, 4 passenger minimum, 6 passenger maximum.
** 6:30pm-8:30pm
** 1-4 passenger tours (2 hour) on the pontoon boat $50 per person, 4 passenger minimum, 6 passenger maximum.
FISHING CHARTERS
For your chance to fish with born and raised Master Captain Scott Cornelius be sure to book as soon as possible!
Call now to lock in your dates or it could be too late!
386-673-0022
Capt. Scott is only available for fishing charters April 1st through June 1st & September 1st through November 1st
4 HOUR FISHING CHARTER = $350 (7am-11am)
6 HOUR FISHING CHARTER = $475 (7am-1pm)
STRATEGIC FISHING: 1-2 passengers aboard the "Tournament Pirate" Flats boat pictured above
PLEASURE/COMFORT FISHING: 1-4 passengers aboard "The Good Life" pontoon boat pictured above. $25 extra for 5th, $25 extra for 6th passengers.
We only fish up to 4 rods at a time on the pontoon so keep that in mind for larger parties..
Fishing charters include all bait, tackle, licensing..be sure to bring your simplified food/drinks, polarized sunglasses, sunscreen, hat and a camera!
CALL A.S.A.P. for booking!
Captain Scott keeps himself VERY BUSY but has set aside these months to be sure you can get out for a great day on the water.
But don't worry, if you can't make it here to fish with Capt. Corn himself we have a great group of guides to be sure you get out and catch a good time all year long!
The Tomoka Outpost offers a full line of private inshore boat tours, fishing charters and pleasure cruises. Step on board with Ormond Beach native & licensed Master Captain Scott Cornelius for a fun adventure that's sure to be remembered! Below is a list of some tours that The Good Life Charters has to offer.
Including but not limited to:
Sunset & Sunrise Tours
Pleasure Cruises
Fishing Trips
Restaurant hopping
Sight Seeing
Bird Watching
Island BBQ's
Real Estate Viewings
Family Outings
Dinner Cruises
Business Parties
Visit
www.thegoodlifecharters.com
for more info...
Or call us a the park 386-673-0022 and ask for "Capt. Corn"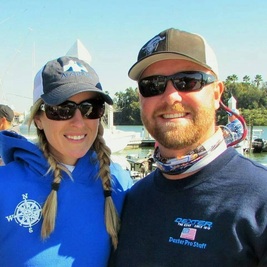 Hi folks!

I'm Captain Scott Cornelius along with my wife and First Mate Ashley Cornelius. We welcome you to the Tomoka Outpost and look forward to having you on board The Good Life Charters as a new friend. Please don't hesitate to give us a call for tour info and availability. All tours are by reservation only and some tours have limited passenger requirements. Please call in advance for booking details and info. "Welcome Aboard!"


---